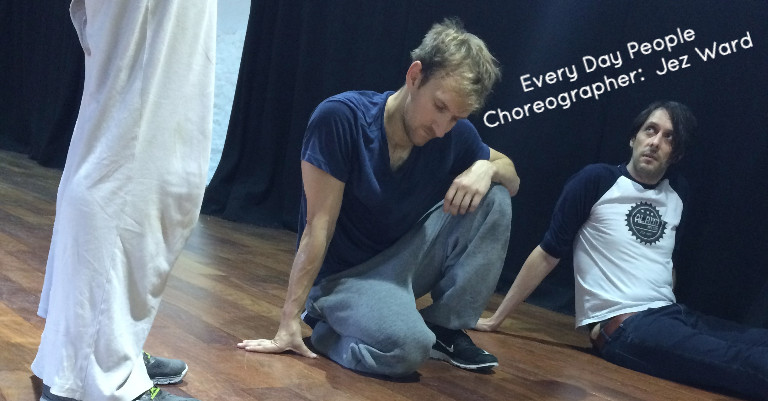 Jez Ward and Debbie Norris, Peaceful Waters
... The Creative Journey
Jez and Deb started their session by reading a short piece of editorial Jez had come across in the magazine Fortean Times, a journal of strange phenomena.
The narrative had been written in the 1990s by R W Monk from Kingston upon Thames in Surrey and describes a walk in Snowdonia by a father and two sons who questioned whether they'd had a strange encounter with a water goddess.
Jez, chose to make the dance with two dancers, James and Dan and began his rehearsal by inviting them to explore climbing. Dan who'd just returned from a week of climbing in the Pyrenees discussed his experience of climbing and in particular how doing so reminds him of his body's relationship to gravity.The dancers over the span of 3 hours climbed the walls of the studio, the floor and each other in an attempt to create an environment which replicated the idea of climbing in Snowdonia.
Deb and Jez's second day focused on developing material which translated to scaling the mountain, arriving at the lake and descending back down the mountain.
This gave the piece it's structure for moving forwards.

Jez and Deb had a really early start on day 3, travelling down from Leeds in the morning for a 10am start. Full of beans (coffee beans) they spent their three hours solidifying movement ready for their final session.
Rachel Palmer's thoughts upon watching: "Out of all the dances being made this is by the far the most physical and daring. Watching Dan and James in rehearsal there is a real sense of authenticity, I believe they are scaling a mountain, dodging boulders and working together to keep each other safe. Throughout the process the dancers have talked about their own experiences of hiking, these memories are rich and the dancers relive those experiences whilst they are dancing".