Charlie Betts, Liminality ... The Creative Journey
Everyday choreographer Charlie made a short film in 2017, reflecting on the part she played in this project.
We think this is really beautiful and wanted to share it with you.

We never imagined this project would have such an affect on the everyday choreographers.

The lovely thing about this project is that each 'every day person' is unique and therefore goes about their sessions in their own way. Charlie took control of the project from the outset and began by sitting everyone down and asking them to introduce themselves.
Having seen Charlie do this it really struck me that no-one else had done this, on the most part everyone said hello and then jumped straight in with their idea. I'm not commenting on either being right or wrong I'm just making the observation that it was actually really nice for this to take place. The dancers despite working together for the past two weekends discovered thing about each other that they didn't know!
I'm Charlie, this is Isabella, I've got lots of interest in the sorts of things you do but I have never danced or made dances.
James...from Devon... I'm 29 – I'm 30 soon. I began dancing at secondary school...
I'm Daniel, Dan, people call me Dan. I started dancing quite late, I used to play football.
I'm Jemima, I'm 22 – I graduated form dance school this time last year. I started dancing very young. I did a lot of Irish dancing growing up.
Charlie then proceeded to talk through her ideas for the project:
It would be good to let you know about some of the ideas I've had for this project. As you can see I have this new little addition in my family and she's been a real inspiration to me.
I've been looking at what it means to go through major changes in my life. How we all move through different parts of our lives, by moving from one point to another and what that really means. I was thinking when I was pregnant how it is this stage of being in a transition - from one point of your life into another.

I would like to potentially explore moving from one point in your life to another – seeking out these transitional moments.

A word keeps coming up for me liminality – being in a liminal state – passing through parts of your life. Passing over a threshold. I think that for me is a very interesting concept really. So maybe through parts of today you could think of some part of your life where you have moved from one important place to another.

I've also been interested in the physical transformation I've gone through, both when I was pregnant and now in motherhood. So I bounce all the time with her and even when I'm not with her I find myself bouncing a lot. When I was pregnant my centre of gravity really shifted I kept falling over quite a lot.
I'd like to look at some ideas about maybe moving whilst balancing on each other. I think this interest is to do with transitions.
I wrote down somethings to do with liminality – liminal means of or relating to a sensory threshold – it's considered to be a transitional phase, a rite of passage. To leave one social group and to enter into another. It's like moving into a different self.
For Charlie's first exercise with the dancers she was interested in what it might mean to improvise by balancing. The dancers were tasked by exploring balance on their own and were then invited to do this in duets. Charlie documented these improvisations on film to look at later, as like Rosie she found the watching quite over-loading for the senses and wasn't really able to edit what was happening at the time.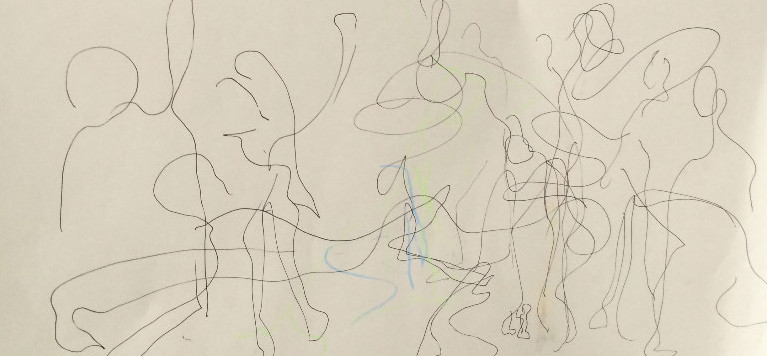 Following these initial improvisations Charlie asked each dancer to think about a point in their life where they could remember passing from one phase into another, this could be insignificant or momentous, she also asked each dancer to think about a song they could use to improvise to, which would help to transport them back to that place or time. Each dancer was asked to do this one at a time and whilst one danced Charlie invited the rest of us to experience her artistic discipline of drawing. I think most of us felt a little daunted by this, but the fact that Charlie was up there directing a form she had never directed before left us little option than to get over ourselves and pick up a crayon!
After the improvisations Charlie moved into two more tasks, the first looked at the dancers being on the edge or periphery of a space and walking to meet each other to find a structure together which involved balancing. As a viewer of this task it made me aware of the potential humans have in life to constantly transition into new experiences with each other.
The final task of the day saw Charlie sharing her new habitual movements that she has found herself doing since having Isabella. A really love improvisation followed where by Charlie walked about performing her habitual movements whilst holding Isabella, such as rocking and bouncing and the dancers followed like a chorus.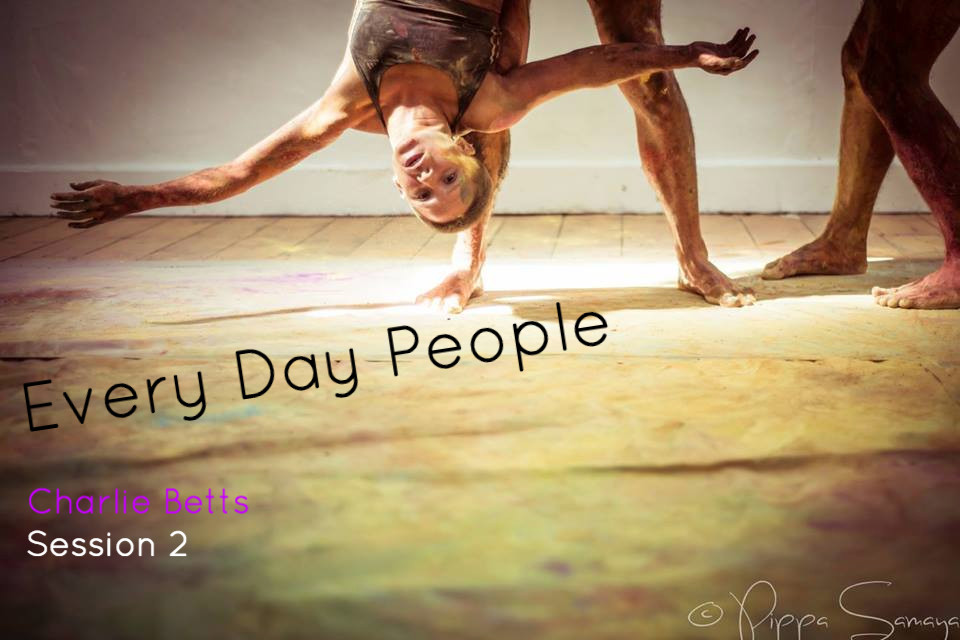 Charlie brought a whole lot of colour to her second session (literally). As part of her process Charlie wanted to keep an imprint of the dance by recording it via drawing and painting. In week one this was acheived by myself, Sally and the dancers drawing the dance as it happened. This week saw Charlie taking this to a whole new level.
The dance floor got covered in plastic and canvas, then a little (correction a lot) of powder paint was thrown around, along with some paint. The idea had been to record the dance on to the canvas, but what resulted and captured Charlie's attention was the paint on the body.
Charlie wrote the following upon reflecting on the day:
"I think the paint was really amazing last weekend - initially I had thought that the main reason we were doing this was to leave marks on the canvas but I think the really exciting thing was the way that the marks were left on the dancers. It was as if they were the canvases picking up the marks from one another. I like the idea that this is like how we leave the traces of our shared experiences on one another".
In preparation for her third session Charlie edited together all of the parts she was interested in keeping from sessions 1 and 2. From this she had four distinct sections:
A playful duet, which saw Jem and Dan exploring how they work with each other - exploring the potential of what can come as a result of meeting
Supporting each others necks and heads
Three of them travelling towards each other to create balances and retreating. This felt nostalgic for Charlie of her new family relationship. How introducing a new life into her family allows for new experiences to become possible, things which would not have been possible without all three being there.
Liminal solos, which are personal to each dancer and reflect their past points of being in transitional phases.
On talking about the work Charlie described her desire for the piece to visit 3 phases of liminality:
The Before - The In between - The Arrival
Charlie's dance is building up from moments of searching, playing, difficulty, being open, uncertainty, negotiation and acceptance. It is a physical landscape of peaks and valleys as the dancers navigate this 'landscape' of change; on every point of arrival the dancers are on the verge of venturing into somewhere else.
Charlie plans to have 3 containers on the edge of the dance space filled with paint so that the dancers can dip themselves at the edges before entering the space, imprint themselves onto each other in between before arriving at the end like a living art exhibit, with the experience of their dance on each other's painted bodies.