Farnham-on-Sea:
A collaboration with New Adventures and Re:Bourne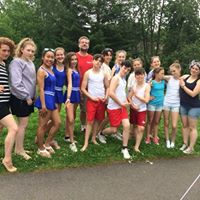 Project Dates:
31st May - 2nd June 10 – 4pm
Saturday 10th June 10 – 4pm
Performance:
Sunday 11th June 2017 12 - 5pm
Farnham Maltings teamed us up with our fellow resident dance company New Adventures & Re:Bourne. We were thrilled to be working together to create a bespoke dance for the brand new outdoor dance event, Dance in the Meadow.
Farnham Maltings put a call out for participants and selected 15 amazing young people aged 12 - 24 to take part in the residency. The cast worked with Alan Vincent and Rachel Palmer to create Farnham-on-Sea, which took inspiration from Matthew Bourne's latest hit show, The Red Shoes.
Project Facts and Figures:
Participant Demographics =
3 graduate dance artists | 1 post grad dance student | 11 dancers aged 12 - 16 yrs
Number of Days Dancing = 5
Number of Emerging Dance Artists Developed = 3