Farnham in Bloom Performance: Weydon School dancers © Ciarran Minns
The Dance Movement specialise in delivering dance classes in Contemporary and Street dance styles.
Contemporary Dance Classes introduce young people to Cunningham & Limon techniques to develop alignment, core strength and basic principles of contemporary dance. Students develop improvisation and choreographic skills and develop their movement vocabulary by learning dance sequences.
---
The Dance Movement offer two levels of contemporary dance classes:
---
Youth Contempoary Dance (YCD)
Introductory Level: Tue 6.30pm - 7.30pm Farnham Maltings
£75
This is an open level class for students who are new to Contemporary Dance, it introduces key principles of dance technique and builds foundations. To join this class contact us.

---
Coalesce Youth Dance Company
Advanced Level: Mon 5.30pm - 7pm Farnham Maltings
£75
Advanced students are invited to attend Coalesce, which is The Dance Movement's youth contemporary dance performance group. If you would like to be considered for this class contact us.
If you are new to us please contact us before making a payment for a class to ensure the class has available places for your child.
You can also arrange payment by cheque, which you can bring along to the first class of term, cheques made to: The Dance Movement or make a bank transfer payment, email us for our bank details.

Payment is required by the 2nd week of term; A £10 charge is applied to late payments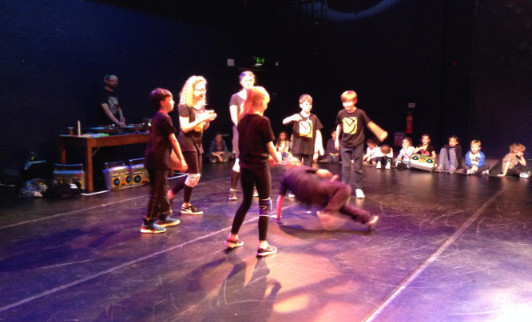 Street Dance Classes
Students are taught street dance techniques encompassing Hip Hop, Lockin', Poppin', Breakin' and Wavin'. Classes are taught by Rachel Palmer, who has developed her street dance skills through Robert Hylton's training programme Skills and Drills and lockin' teacher Fred the Realness Folkes.
---
The Dance Movement offer two levels of street dance from their home Farnham Maltings:
---
Junior Classes:
Tue 4.30pm - 5.30pm Farnham Maltings
£75
This is a class for children new to Street Dance, aged 6 - 10 years. The juniors work on basic street dance techniques including poppin, lockin, wavin, breakin & hip hop.

---
Senior Classes:
Tue 5.30pm - 6.30pm Farnham Maltings
£75
This is a class for children who are have progressed from the Junior Class, students are aged 9 - 15 years. The class involves complex choreography & advanced street dance techniques.

---
Jo Donoghue, a parent from Cranleigh Primary School Street Dance Class talking about our recent Battle at Frensham Heights School:

[The Battle] was amazing. I was so impressed with all the children who took part, and it shone through how much it meant to them all.