A dance project aiming to help young people transform into the best versions of themselves


What is Thrive Dance Academy?
Watch the video below to find out about Thrive Dance Academy; hear from the young people who took part in the first pilot phase and the artistic team behind the process:

Thrive is delivered over a 6-week period, 2 days p/week on Thursdays and Fridays (9am - 3pm) in Farnham at The Dance Movement's home, Farnham Maltings. Students are able to continue attending the programme once their initial 6-week programme has ended, individual development programmes are designed with each student, which are underpinned by the Arts Award programme.

The programme at a glance:

Dancing happens every day, this includes a daily morning dance class, fitness, and afternoon choreography sessions.
Students are supported and nurtured by Thrive's exceptional team of dance artists, they are never given up on.
Students create a new choreographic work which they perform in their own graduation dance show at the end of the programme.
Students can gain an accreditation by taking part in the Arts Award programme.
Students are monitored through an evaluation process which tracks their progress and evidences their successes.
Additional Information
Breakfast and Lunch is provided daily, home-made by our caterer Alyson
Dance clothes, costumes for the performance and hygiene products
Travel warrants can be organised through Surrey CC if referrlas come through a social worker / case worker.
---
The teaching philosophy of Thrive Dance Academy places value on helping students develop movement skills which ask them to connect, trust and inter-relate with each other through dancing (positive physical interactions). The programme has been designed to use dance as a tool to enable a physical transformation to occur in each young person. Through the action of dancing on their own and with others each student is encouraged to reconsider the potential they have to be a part of something, through doing this and completing the programme where they create a dance with their peers and perform it in their own graduation ceremoney they get to experience personal success. The process has proven, through robust evaluative methods, how particiapting in Thrive Dance Academy students are able to shift their viewpoints on how they perceive themselves and their ability to succeed from negative to positive, through this adjustment they are then able to:
-Re-engage with education and/or work;-
-Be diverted from offending and/or reoffending;
-Improve their mental and physical health so that their need for support services are reduced.
Thrive Dance Academy is a dance project for young people aged 14 - 21 years and living in Surrey who are:
NEET (16-18 yrs and not in education, employment or training)
at risk of exclusion from school
are excluded
attend a PRU
school refusers
homeless
looked after
Thrive Dance Academy Funders:
High Sheriff Youth Awards (2018/19)

Farnham Institute (2018 and 2019)

Councillor Richard Hampson (2018)

Community Safety Fund,

Surrey Police

(2019)

Community Foundation for Surrey (2018)

Arts Council England (2018/19)

TDA Graduates in October 2019 receiving their graduation certificates from the High Sheriff of Surrey Jim Glover (2018/19)
Thrive Dance Academy (TDA) is delivered by The Dance Movement in Surrey and has been developed with support from the Wessex Dance Academy (WDA); a successfully established intervention dance programme funded by Hampshire County Council based in Winchester. WDA features as a case study of excellence in OFSTEDs alternative curriculum examples and has a proven track record of success with 86% of graduates going on to re-enter education, training or employment. We are eternally grateful to Claire Hobbs at WDA who very kindly held our hands through the setting up of our pilot programme.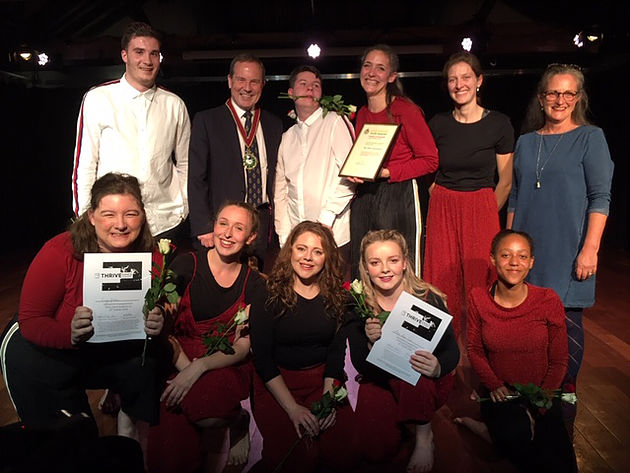 A typical day at Thrive Dance Academy:
9am Breakfast
Served to YP & Creative Team by Thrive Caterer Alyson
10am Fitness, Mind & Body Centering
led by Rachel, Nicky, Cherie and Grace

10.45am Break
11am Dance Technique & Choreography
led by Rachel, Nicky, Cherie and Grace

12.15pm Lunch
Served to YP & Creative Team by Thrive Caterer Alyson
1pm Dance Technique & Choreography
led by Rachel, Nicky, Cherie and Grace

2.15pm Break
2.30pm Arts Award Delivery
led by Nicky
There are very few reasons as to why The Dance Movement would not consider a young person onto the programme. If you are struggling to engage a young person, if they are not coping with their current environment, even if you think they won't want to dance, why not give Thrive Dance Academy a chance, we're so much more than just dancing and prancnig (although we do a fair bit of that too)! Over 80% of the students who attended our programme have never danced before and 40% are male.
Referrals

Referrlas must be made by a school teacher, head teacher, youth worker, social worker, family case worker or parent. A referral form can be obtained by emailing rachel@thedancemovement.co.uk

Current Referrals have come through from:

Hampshire County Council Family Case Worker
Surrey County Council Looked After Children Team NW Surrey

Kings College, Guildford
Waverley Training Services
Step by Step
Eikon Charity