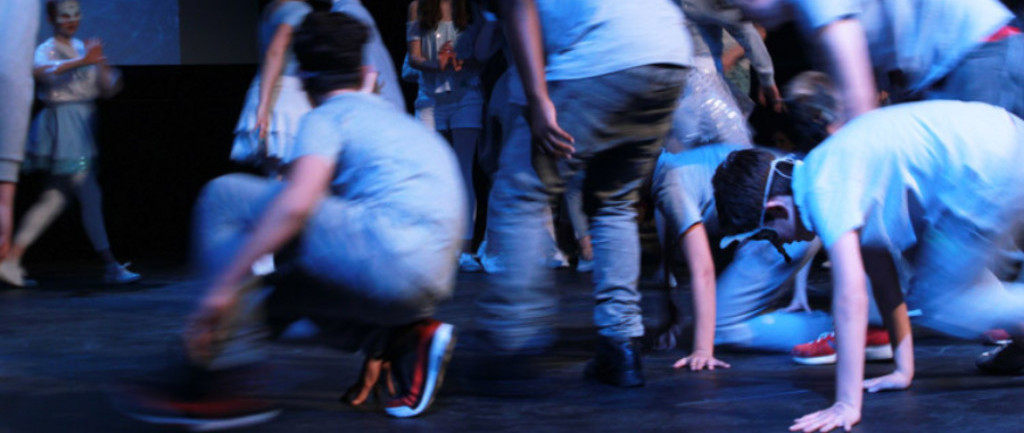 Weydon and Christ's College Boys Dance Groups in performance at Farnham Maltings © Ciarran Minns
Following a years worth of funding in 2015-16 from Active Surrey The Dance Movement set-up their boys dance programme, LEGIT at two schools in Surrey.
After school clubs run in partnership with two host secondary schools, Weydon School in Farnham and Christ's College in Guildford.
The boys work with dance artists from the Company every week, classes focus on performance, fitness, contemporary dance techniques and improvisation.
The classes are open to any boy aged 10+
Venues & Days:
Guildford (Christ's College) Mondays

Farnham (Weydon School) Tuesdays
Rachel Palmer, Director of The Dance Movement is really pleased with how the project has got going, "Setting up a boys only dance project is not without challenges. Unbelievably still at the forefront is overcoming prejudice about boys dancing. I am so proud of the lads who signed up for this project and stood up to peer pressure, they work relentlessly to make the project the success it is. I absolutely love enabling boys to dance, the energy lads bring to the dance studio and their ability to take risks is so inspiring."
To date the boys have worked together to perform at:
Christ's College & Weydon School's Dance Concerts 2015 - 2017
G Live as part of an evening with Ballet Boyz May '16
Farnham Maltings, as part of The Big Red Dance Bus (a national touring event) June '16
Farnham Blooming for the Farnham in Bloom competition 2016 & 2017
Spark, Waverley Youth Arts Festival 2016 & 2017
Dance in the Meadow
To sign up for either Guildford or Farnham Legit groups contact us
Pay for Your Classes Here:

Click on the red button below to register for your legit class now.
Please note if paying for classes via paypal, a £ 1.50p charge is added to the class fee to cover charges passed on to us for using this service.

NB: We are committed to affordable dance lessons, if you are unable to afford our fees please get in touch.