The Birth of Stars, Dancers in Rehearsal at G Live 2013 © Ciarran Minns
---
Adult Contemporary Dance Classes are held at our home Farnham Maltings
on Tuesdays 8pm - 9.30pm
The cost is £6 p/week and classes are run as drop in sessions, meaning you do not have to pay for a term of classes.
Class Attire:
Comfortable Clothing
like you would wear to the gym
Bare Feet
although for some exercises socks are permitted
Classes are led by Rachel Palmer (Programme Director) and involve a mixture of Contemporary dance techniques to help students explore different ways of moving.

Students are introduced to the idea of moving the body in an honest relation to gravity to enable efficiency of movement.

Body Work, Improvisation and Contact Improvisation are explored as well as the teaching of exercises & choreographed dance sequences.
What does Contempoary Dance look like? Click on this question to see a little video of a project we produced, there are some great contemporary dance moves in there to wet your appetite.

---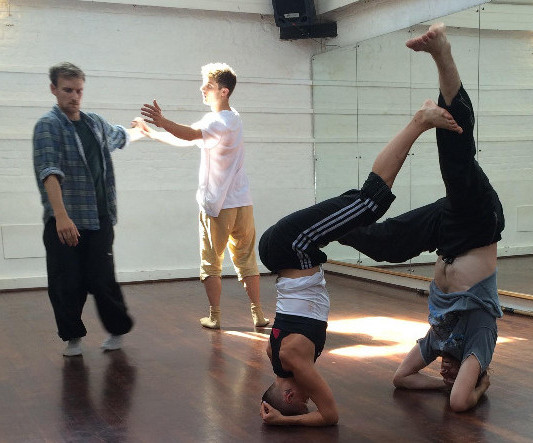 Autumn Term Starts 12th September
For more details, contact us.
I just wanted to say thank you so much for your support and encouragement last night throughout the class. I really enjoyed it and will definitely be back. Emma


Please Note, if you pay via paypal we add an additional 50p to the price which covers the administration cost passed onto us via paypal for using the service.