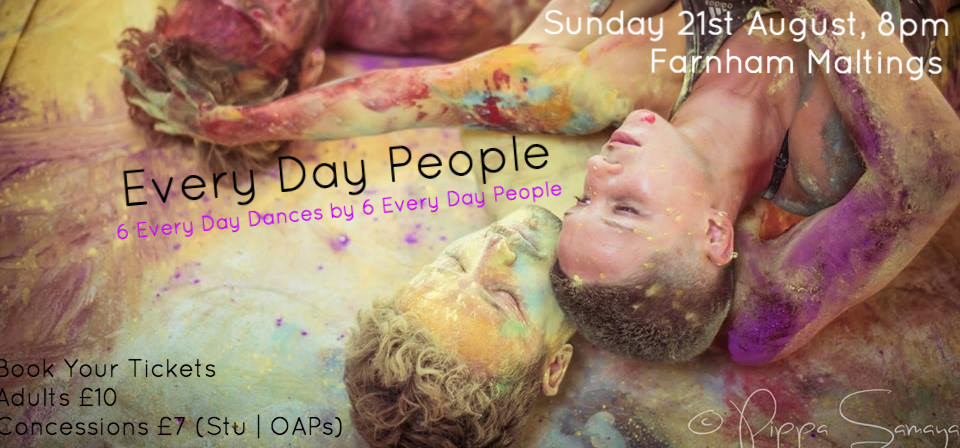 ---
Every Day People: A different kind of dance performance
Join us for an evening of dance made by local people.
Throughout July and August The Dance Movement have been helping 6 people, who know nothing about dance making, to become choreographers. The project has been directed by Sally Marie and features four simply incredible professional dancers.

Join us on Sunday 21st August, 8pm to watch the six dances at Farnham Maltings in the TIndle Studio.
What will you see?
TRAPPED, made by Installation Artist Mary Branson
Created as a film installation, Mary has created the film as a response to the illegal bird trappings that take place on the island of Gozo.
The men are languid. They ooze and wait on the cliff tops for their passing bird, who unaware of the imminent danger gets magnetized towards them.
PEACEFUL WATERS, made by Graphic Designer Jez Ward and Dance Lecturer Debbie Norris
The dance has take inspiration from a letter written in the 1990s by R W Monk from Kingston upon Thames in Surrey to the Fortean Times, a journal of stange phenomena. The letter describes a walk in Snowdonia the author took with his father and brother in Snowdonia and questioned whether the family had a strange encounter with a water goddess.
GRANDAD's HOUSE, made by journalist and children's author Stella Wiseman
Stella has based this dance on her short story Grandad's House, a poignant tale, which sees a granddaughter join her grandfather aboard his imaginary ship in an attempt to stay with him as he travels on his journey with dementia.
IN OUR MINDS, made by video and photography artist Rosie Gunn
At the heart of this piece sits the idea of complex relationships. What has arisen is a truthful and honest dance, which captures an exhausting and baffling relationship that is fueled by frustration, empathy and love.
SHADOW MAN, made by photographer Stuey Burnett
The dance starts off with a playful investigation between man and his shadow; images of Peter Pan and his shadow are reminiscent. Dancer Jemima Brown enters like a spiritual force of air and physically propels the shadow and the man to some other place. Who is she? The shadow watcher; the commander of shadows?
When you do Dance, I Wish you, made by visual artist Charlie Betts
When you do dance, I wish you
A wave O'th 'sea, that you might ever do
Nothing but that.
Having recently become a mother Charlie's process started with the idea of liminality

, being on the threshold of something new. What resulted is a dance which explores and celebrates motherhood and the new family dynamic Charlie is a part of.



Directions to Farnham Maltings: