The Birth of Stars was a bespoke digital light, sound and dance performance presented by The Dance Movement providing an interdisciplinary approach, created in collaboration with artists Mary Branson, Mat Clarke, Rosie Gunn, Nicky Norton and Rachel Palmer.
The Dance Movement secured funding from Arts Council England (grants for the arts) to develop this work which focused on the cyclical processes of a star in its creation and as it is extinguished, depicting a metaphor of the cycle of human existence.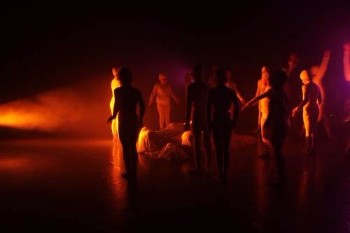 This piece was produced in G Live's studio space allowing its audience to experience this work from the outside, looking in. The audience gazed on as the performance depicted the performers' interaction with digital light within the glass walled studio, creating a unique theatrical experience.

The project saw professional dancers perform alongside primary school children and teenagers to a binaural soundtrack featuring the voices of older people, which audiences listened to through silent disco headphones. The soundscape was created by Sound Artist Mat Clarke.
The costing of this project totaled at £20,000 of which £15,000 was secured through Arts Council Funding.